¤ Working Strategy included for your exchange with every License




¤ Years of testing and upgrades culminating in V4.




¤ No Repainting!

¤ Generates BUY / SELL / TP / SL alerts based on your custom trading strategy.

¤ Works on any chart and timeframe on TradingView.

¤ Helpful community to guide you with setup and answer your every question.

¤ Powerful Algorithm proven over years of backtesting.

¤ Adjustable Calibrations can find profitable results on most timeframes.

¤ Strategies beat BUY & HOLD!
 
¤ Works with all Bots that can read TradingView Alerts!

I search through TradingView scripts often. Never have I come across a more versatile & robust script.
It's official, as of today, my GUNBOT now makes as much money as I do per week while working at Google.
Thanks.. I've tried a couple of scripts and yours has excelled in what I'm using it for.. After I learned how to set it up per coin, It just works..
thank you so much for taking your time to create this wonderful indicator
Absolute beast my friend, V4. I freaking love it.
Just to let you know that while I was testing out the script I've made 2-3 eth which is a blessing and it works wonders, I trade manually atm. because I don't know how to use bot yet
Really thanks. After trial I purchased it. Really goooooooooooooood.
Guys this is a great script! I'm using it to automate my trades using Autoview and ProfitTrailer and having GREAT results. Right now I'm seeing 20+ profitable trades per day. I'm only trading 10 coins but now that I have things tuned in I plan to increase the amount of coins traded as well as increasing the trade amount. I'm so pleased with this strategy that I purchased a lifetime license. They offer a trial for people who are interested. Check them out. -Todd
This is freaking awesome! I set my alerts to pass into cryptohopper and it's working flawlessly. I can't thank you enough! $758 in one week. $2500 starting fund.
I certainly haven't found anything even close to as powerful on TradingView - and I've checked out tons of scripts. You guys have truly done on amazing job here. It also seems the longer you use Ninja, you almost get a feel for what settings to try in a given situation. Picking the appropriate timeframe is surely one of the toughest parts for me still but there are clusters of minute ranges that seem to be the best. Still figuring that out. It boggles my mind how 1 minute in either direction can make such a huge difference!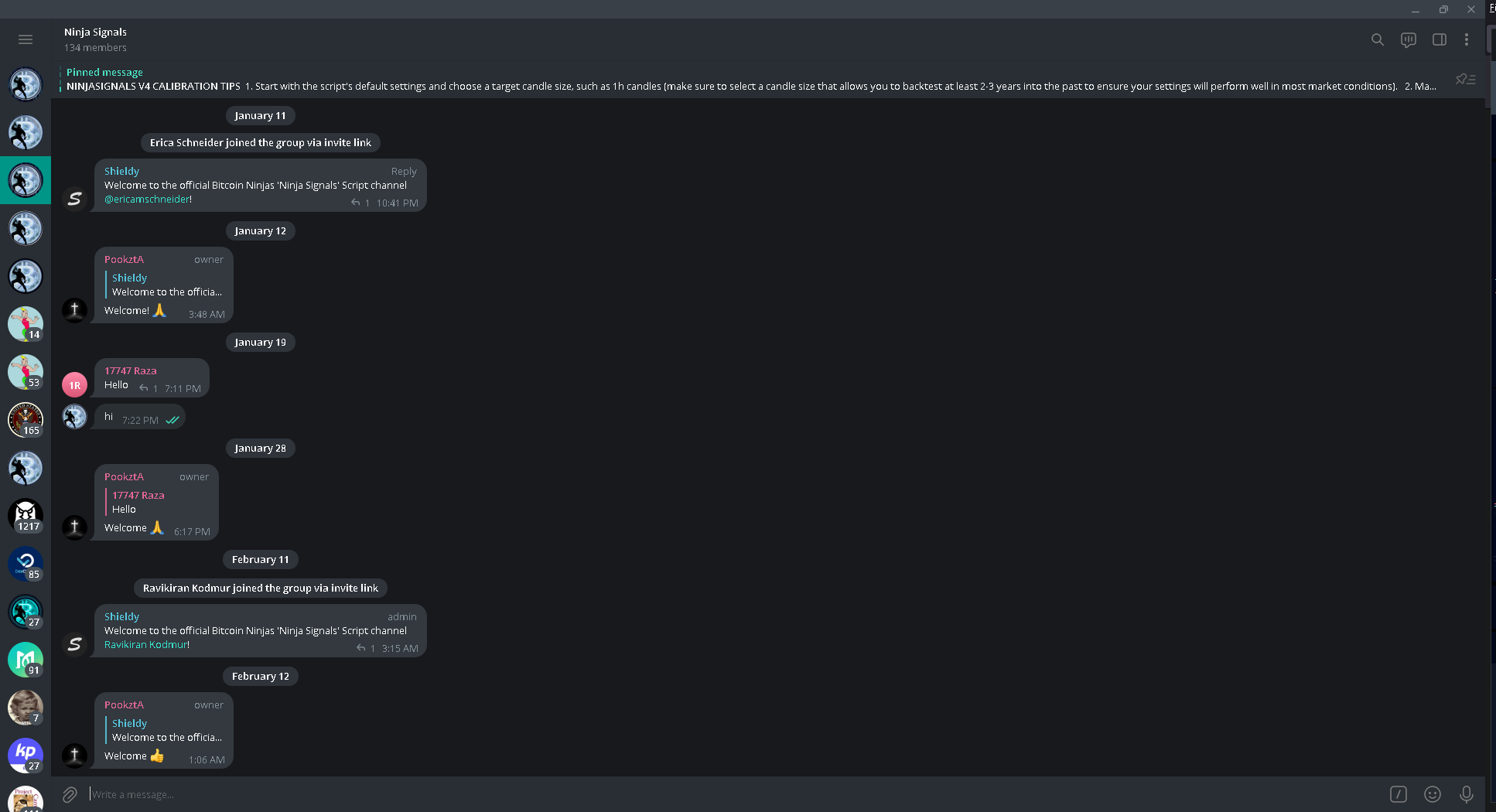 Alone we are weak, together we are strong!
Our active community of traders has been steadfast since day 1 working to make our script the best on TradingView.
Join our channels and become part of the community:
Ninja Signals:
https://t.me/+RI6FC4zzu4n6JHwl
Bitcoin Ninjas: